Permanent roaming: a term that often induces stress and anxiety to many, especially those managing global IoT projects.
Why? Permanent roaming issues can stop an IoT project in its tracks, cause unforeseen device disconnections, and rack up extortionate costs.
Discover more about the role localization plays in securing and maintaining connection, and how to overcome permanent roaming challenges once and for all.
Global IoT Network Challenges
There is an increasing necessity for IoT devices to roam, especially large-scale global projects. But they often face restrictive barriers. Permanent roaming being one.
What is permanent roaming? It's when a device is permanently connected in a country that is not its nominal 'home' territory. Permanent roaming is designed for short stays where the device temporarily visits a location but returns to its origins. It is not intended for IoT devices that will be deployed permanently across borders.
As Eseye's CTO, Ian Marsden, puts it "Mobile connectivity can be a lot like the Hotel California. As the famous lyric goes, 'you can check in any time you like, but you can never leave'".
Roaming restrictions are imposed by country regulators or networks and only allow a SIM to roam for a limited period in one country. IoT devices that are left constantly permanently roaming can incur extortionate charges for data usage and regulatory restrictions.
Once the device reaches that limit, it is automatically 'bricked' and removed from the network, resulting in a connectivity disconnection. This is a significant concern for IoT devices that are supposed to roam in a country for many years.
Currently, the following countries have the strictest regulatory restrictions in place to prevent permanent roaming:
Brazil
Canada
Turkey
India
China
Find out how Eseye can solve these issues by localizing the SIMs in the deployed devices to a local mobile network.
Roaming can cause significant business risks
A major challenge is global IoT deployment. Organizations looking to deploy an IoT estate must navigate the complex mobile network operator (MNO) landscape and negotiate contracts for their devices. For an enterprise deploying an estate of 50,000 devices across multiple territories and borders, mobile network negotiations can be a complicated and laborious process.
Another challenge, perhaps worse, even, is if the IoT device estate is already actively deployed in the field and relies on a localization relationship, which suddenly breaks down leaving the devices stuck and disconnected in the wreckage of a messy network divorce.
Why is Cellular Network Localization Important?
What is cellular network localization? It is the process of sending a new profile from the regional or local network operator where the device is deployed, over-the-air (OTA) to your device's SIM. For example, if you deployed a device in the United States – you could deploy the device with a global roaming profile and then localize it to Verizon at a future point in time by pushing this network over-the-air.
Localization can be achieved in a few different ways; either by agreements with a local mobile network provider or through a localization partner. If choosing the latter, it important to select a localization partner who provides a matching quality of service to deliver the required application service level.
Many enterprises with global IoT projects opt for a localization option to safeguard their device estate, secure the best connectivity coverage available and avoid any possible network outages in the longer term.
It's highly probable that you will want to change networks many times throughout an IoT device's lifespan. For example, if you wish to:
Avoid permanent roaming restrictions (i.e. where a device roams onto a local network for more than 3 months)
Use a service with better connectivity levels
Change from a provider who is shutting down a cellular technology or service that you need (such as 2G or 3G)
Achieve a better rate, level of service, and coverage from another provider
There are two ways to change networks on an IoT device:
With eUICC, you can switch to a different network provider (usually only once for standard eUICC SIMs) and depending on the solution provider, you also may have the option to localize the device to an approved network.
With a multi-IMSI SIM, you can switch networks as many times as you like but remain with your current connectivity provider. (This is sometimes referred to as IMSI donation)
For instance, if you are planning to deploy IoT devices in the USA, SIMs can be loaded with multiple bootstrap profiles and Step2 profiles which will enable it to achieve the best connectivity coverage available and overcome permanent roaming restrictions.
In this example, Verizon permanent roaming restrictions have been overcome by loading a localized Step2 IMSI profile, which is now the default profile for the IoT devices (otherwise known as a profile donation).
Crucially, it is vital your SIMs have bootstrap IMSI profiles in place if network issues arise, planned or unforeseen. This ensures devices maintain a reliable connection and continue to be operational.

Overcoming IoT Permanent Roaming Issues
What's the key to overcoming issues arising from IoT permanent roaming, you ask? A multi-network connectivity solution that has your business covered, protects your device's best interests when it comes to cellular connectivity and coverage, and offers responsive support when and where issues occur.
Eseye founded the AnyNet Federation, a worldwide alliance of MNOs that helps to meet the needs of customers to deliver successful IoT projects globally with complete connectivity assurance.
Eseye has the most localization options of any provider and interconnects with 12 key mobile network operators, including Verizon, Telus, China Telecom and MTN. Eseye federates data across these networks to enable IoT customers around the world to localize devices over-the-air utilizing an eUICC compliant approach to ensure IoT devices stay connected wherever they are located.
The AnyNet Federation allows customers the benefit of localization without requiring the migration of the SIM management to a local MNO and allows devices to meet sovereignty and regulatory requirements through Eseye's localization process.
What does this mean for Eseye customers? A flexible, global connectivity approach with access to over 700 mobile networks in more than 190 countries. Localization made easy and permanent roaming challenges a thing of the past.
Customers report improved latency speeds and a superior quality of service. Eseye achieves this through its unique AnyNet+ SIM, which is fully eUICC compliant and allows IoT devices to switch seamlessly between networks when required, as directed by its intelligent IoT connectivity management platform.
Truly Global Cellular Connectivity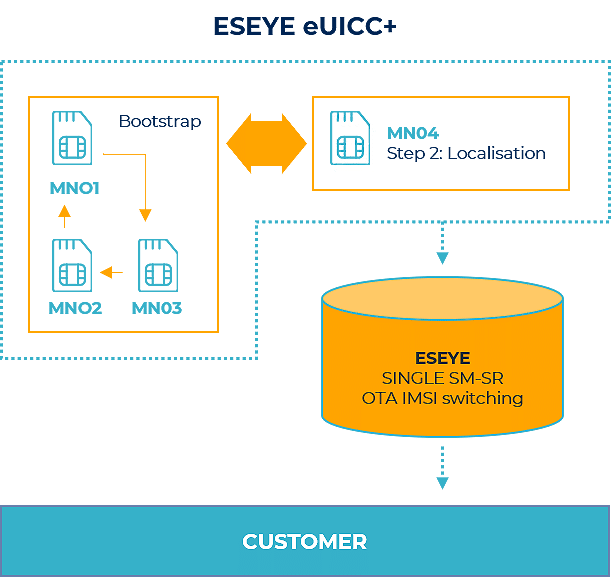 Eseye's AnyNet+ SIM is one of the most advanced fully GSMA and eUICC compliant eSIMs on the market. It combines unique multi-IMSI technology with the eUICC standard to deliver advanced profile management. Each SIM contains multiple Tier 1 MNO multi-IMSI bootstraps and Step2 profiles and customized algorithms within the SIM dynamically select the right profile to deliver the best service. This allows Eseye to deliver connectivity anywhere in the world with complete assurance and reliability. These can be pre-loaded to the SIM or downloaded over-the-air post-deployment.
Eseye operates its own Remote SIM Provisioning (RSP) which is comprised of two key elements: Subscription Manager Data Preparation (SM-DP) and Subscription Manager Secure Routing (SM-SR). This enables Eseye to manage the entire profile transfer process between MNOs to provide a seamless global connectivity solution to our customers. The SM-DP stores and manages the network profiles while the SM-SR securely delivers the encrypted MNO (IMSI) credentials to the SIM and then, once the credentials are installed, remotely manages the SIM thereafter (enabling, disabling, and deleting credentials throughout the device's lifetime, as required).
Coupled with our proprietary Connectivity Management Platform, Eseye can auto-switch between service providers OTA to ensure the highest levels of availability (>99%) – higher than any single MNO proprietary solution or standard eUICC solution from other IoT connectivity providers.
Watch the video to learn about the AnyNet+ SIMs capabilities
AnyNet+ SIM Summary
Multiple IMSI profiles are loaded onto each SIM so that it can auto-switch dynamically OTA on any loss of connectivity.
eUICC+ capability delivers advanced profile management.
Access over 700 mobile networks and streamline your approach to roaming.
Reliably achieve near 100% global connectivity uptime
eUICC, 2G, 3G or 4G/LTE, Cat M1 LTE compliant.
ISO 27001 Certification.
Benefits of the AnyNet+ SIM
Ubiquitous global connectivity: achieve over 99.8% device connectivity uptime across more than 190 countries globally.
Out-of-the-box, zero-touch provisioning: automatic OTA connection and setup of the device with no on-site configuration
Central management: One global point of contact for service, support and billing for all IoT device connectivity; no need for multiple MNO contracts and associated support agreements.
Improved connectivity resilience: Fully eUICC compliant eSIM with multi-IMSI capability to allow complete autonomy to switch networks while preserving multiple fallback bootstraps in the event of an OTA switch under eUICC.
Future-proofed SIM technology: 5G and NB-IoT ready with support for LTE networks, which will benefit applications using all 4G networks including Cat-M1 Devices.
Flexible integration: multiple out-of-the-box integration options with Cloud providers (e.g AWS, Azure) and device manufacturers (e.g. Gemalto/Thales).
AnyNet Connectivity Management Platform: Network-level dynamic switching capabilities, private APN and Secure Data Provisioning, and offers users complete ownership of the SM-SR.
End-to-end security: Meets GSMA security standards; digital security certificates (SSL/TLS) sent OTA; communications securely flow through Eseye's private APN which authorizes the service.
Round the clock technical support: Eseye's dedicated Service Delivery team provide proactive device status monitoring and networking switching and steering. Optional enhanced Service Desk SLAs.