The electric vehicle market is growing at an exponential rate with consumer behaviour increasingly focusing on green renewable energy.
Deloitte's latest outlook report that EV sales are set to rocket from 2 million units in 2018 to 4 million in 2020, 12 million in 2025, before growing to 21 million in 2030.
As the demand increases, so too does supply. More EV charging stations need to be deployed far and wide to continue the upward surge of EV adoption. Consumers need to have access to conveniently located and affordable EV charging stations wherever and whenever. And today's society has grown accustomed to instant gratification. We want everything now and delays due to poor connection lead to growing discontent.
For EV charging networks this presents a clear customer expectation which they must fulfil in order to thrive and, indeed, survive in an increasingly competitive and growing market.
What do EV charging networks fundamentally need? Reliable, ubiquitous connectivity.
Nobody should have to experience poor connectivity. It causes a multitude of problems for the provider and consumer alike. Patchy connectivity can lead to inconsistent data tracking across an EV charging estate, not to mention the loss in revenue when payments fail to go through.
As we know EV charging is more time consuming than gasoline refuels. Consumers have accepted this deal but when the speed of their charging is compromised and they experience undue delays, it becomes an issue.
EV charging networks need their devices to work at their optimum across the whole network. An EV charger in Birmingham, UK needs to be working as hard and effectively as its counterpart in Madrid, Spain. This consistent reliability can only be achieved through stable, secure, speedy connectivity.
Choosing a solution which only ever offers a maximum of 90% uptime simply isn't the answer. It's a basic short-term solution to a long-term problem. And results in 1 in every 10 customers experiencing a delay. As queues mount and charge points develop a reputation for being temperamental and slow, customers will soon switch to a competitor who can deliver.
EV charge points are built to last for 10 – 15 years servicing thousands of customers on their green-powered travels. So, EV charging networks need a long-term solution; one that won't require constant maintenance up-keep and one that will solve the frustrations caused by substandard connectivity.
Because what if that mobile network's connectivity drops? How would it affect customers? What knock-on effect would that have on business?
A devastating 15-25% of charge points would be without a reliable connection leaving customers unable to charge, and likely turning to a competitor elsewhere. Even a 1% connectivity drop can have negative implications, so imagine a quarter of an EV charging estate in a single country.
One lost customer per day could mean an opportunity cost of over £2,000 per year for a single charger.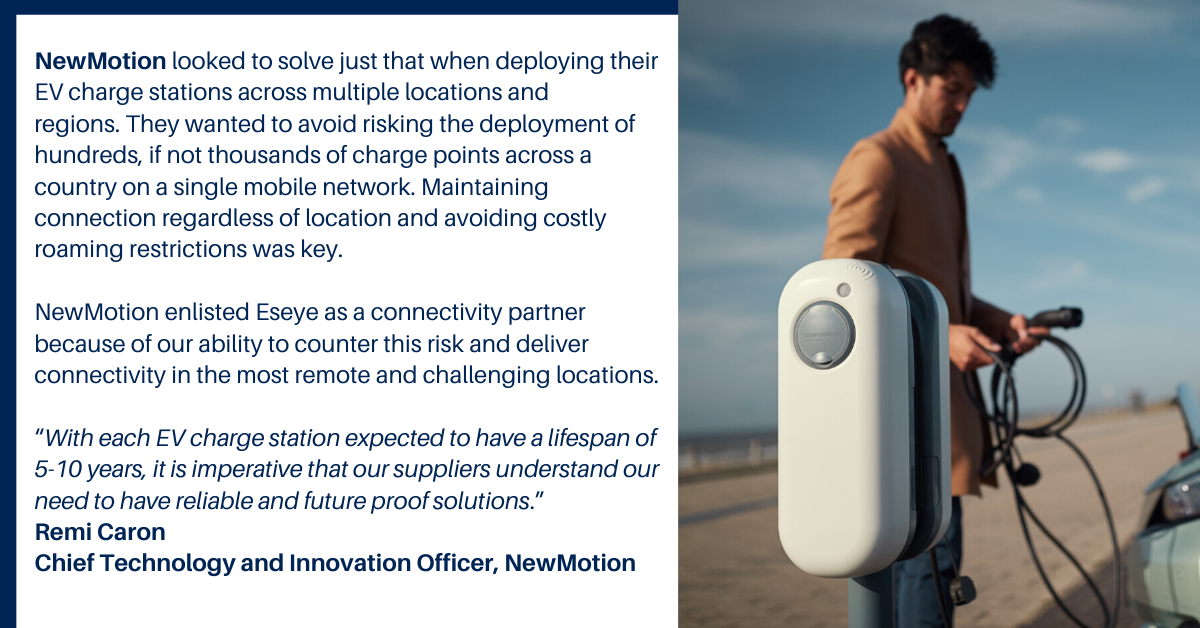 Poor connectivity is a challenge that can make or break IoT projects; a challenge, but not an insurmountable one. Selecting the right connectivity partner to provide high-quality service and maximum flexibility will aid global EV deployment and ensure your project is a success well into the future.
Read our whitepaper to learn how reliable, global IoT connectivity can give a commercial edge in the EV charging market.