By helping the world's most vulnerable gain access to solar power Village Infrastructure Angels (VIA), Eseye, and the GSMA are aiming to revolutionise the lives of up to 300 million women. This is beginning with solar agro-mills, sold as a pay-as-you-go solution.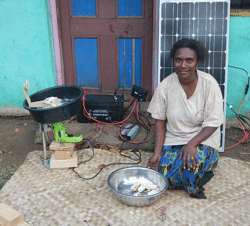 With grant money provided by the GSMA Mobile for Development Utilities Innovation Fund, the VIA tested 15 different SIM card suppliers before deciding to use the award winning Eseye AnyNet Secure SIM. Valuing its access to over 440 networks in over 190 countries and the ability to remove the developer costs when sending the data to an AWS Cloud Account.
If you would like to read more about this life changing product, please visit the full case study: here.
Or for a demo of this product visit Eseye at AWS re:Invent in Las Vegas, 27Nov – 1Dec.
If you are interested in using the benefits of the AWS connected AnyNet Secure the SIMs can be bought on Amazon.comand the connectivity set up through the AWS Marketplace AWS Marketplace
Eseye have recently been recognised by Frost & Sullivan for its best in class IoT product innovation, for the AnyNet Secure SIM, details are here. If you missed this and want to keep up to date with Eseye make sure you follow us:
Facebook: eseyeM2M
LinkedIn: Eseye
Twitter: @eseyem2m
Blog: subscribe on the right.