Take your IoT beyond
Ready to realise lasting-value from your IoT projects? But unsure how to navigate the complexities of device-to-cloud IoT connectivity?
Discover why Amazon, Shell, and Biofourmis chose Eseye's world-leading IoT connectivity solutions for their global IoT, including: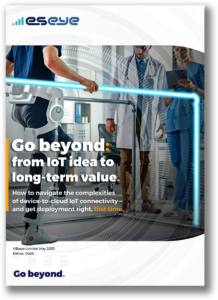 Device design engineering and connectivity intelligence with AnyNet SMARTconnect™.
Unmatched network availability with access to 700 networks in 190 countries for secure, scalable connectivity and near-100% uptime with our multi award-winning IoT eSIM and iSIM technology.
Simplified connectivity management through a single IoT Platform, Infinity™.
Plus! Gain confidence at every step with our end-to-end IoT services, IoT Readiness Level™ Index and subscription-based IoT LaunchPad™ programme and access to the best technical engineers with 24/7 world-class technical support.