End-To-End IoT Services
The best time to choose Eseye was when your project began. The next best is now.
Get IoT right first time, every time with Eseye's IoT services. From idea to implementation, we'll get you there. Tap into our IoT engineering expertise built over the last 15 years' delivering more than 1,000 IoT projects.
Get your IoT device to market, quickly. We can accelerate time to market by ≥6 months and reduce IoT development and engineering costs by up to 25% with our full IoT lifecycle services: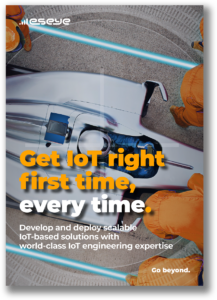 Invest in and enjoy the journey from your initial IoT discovery workshop to deployment.
Measure your IoT project maturity with Eseye's IoT Readiness Level (IRL) Index™.
Discover IoT LaunchPad™ – a customised all-inclusive subscription-based services programme.