Sequans & Eseye Universal iSIM
Ultra-reliable and universal iSIM Solution for unrivalled global IoT connectivity
Learn more about Sequans easySWAP with Eseye AnyNet Connectivity Solution which delivers the world's first global, secure and end-to-end commercial iSIM for IoT.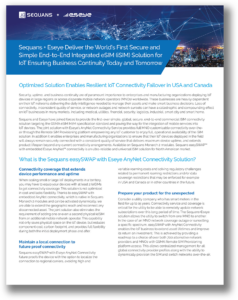 Extend asset lifetimes and improve ROI by connecting to alternative connectivity providers dynamically, with no interruption in service.
Save valuable physical space on the IoT device and reduce your component cost and carbon footprint
Localise connectivity coverage across the world to ensure any IoT deployment complies with global regulations.