IoT in Telehealth
Telehealth – the remote patient monitoring (RPM) of patients using smart healthcare technology – is changing how people with long-term medical conditions and disabilities are being cared for. The Internet of Things (IoT) is playing an increasingly pivotal role in this transformation.
Telehealth and RPM devices are only effective if they maintain high uptime and real-time communications. Achieving this level of performance presents four major challenges for providers, including: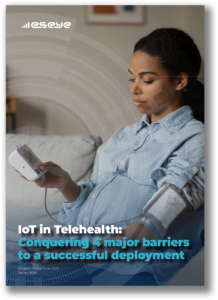 Designing the device (UX, radio access type, battery power requirements)
Accessing reliable and continuous out-of-the-box IoT connectivity
Ensuring end-to-end security from device to cloud
Certifying the device according to industry and network standards
Get this whitepaper to understand how to overcome these hurdles, plus read success stories from Telli Health and Biofourmis.