IoT is exploding. Juniper Research predicts that the number of IoT connections will reach 83 billion by 2024. Almost every tech company is looking to create an IoT product but the journey to designing, developing, and deploying an IoT device is anything but simple.
Potential Issues with Launching an IoT Project
There are myriad problems that you could run into while developing a global IoT device, ranging from hardware issues to software trouble.
Most IoT devices require specialised hardware, which is not easy to design or come by. At the same time, there is an inherent degree of complexity that exists to make the device IoT-compatible, adding to the list of things that could potentially go wrong. Lastly, connectivity issues are a concern.
Without near to 100% global connectivity, the device may not be able to work in certain areas which can impact operational efficiency, and ultimately ROI.
Four common challenges impact IoT deployments:
Expertise: Companies typically lack internal experience developing and deploying IoT-based solutions.
Resources: Limited time and internal resources to manage multiple vendor relationships for the various components that make up an IoT solution.
Complexity: From device certification to IoT security and logistics management, various hurdles present themselves along the way.
Delay: A delay in time-to-market results in further delayed realisation of solution benefits and the real total cost of ownership.
All of these concerns and issues, in one way or another, boil down to two things: a lack of expertise and/or resources. If you're working on your project with professionals who can advise you on the optimal deployment of resources, all these troubles can be avoided. Enter: our Global IoT Advisory Services.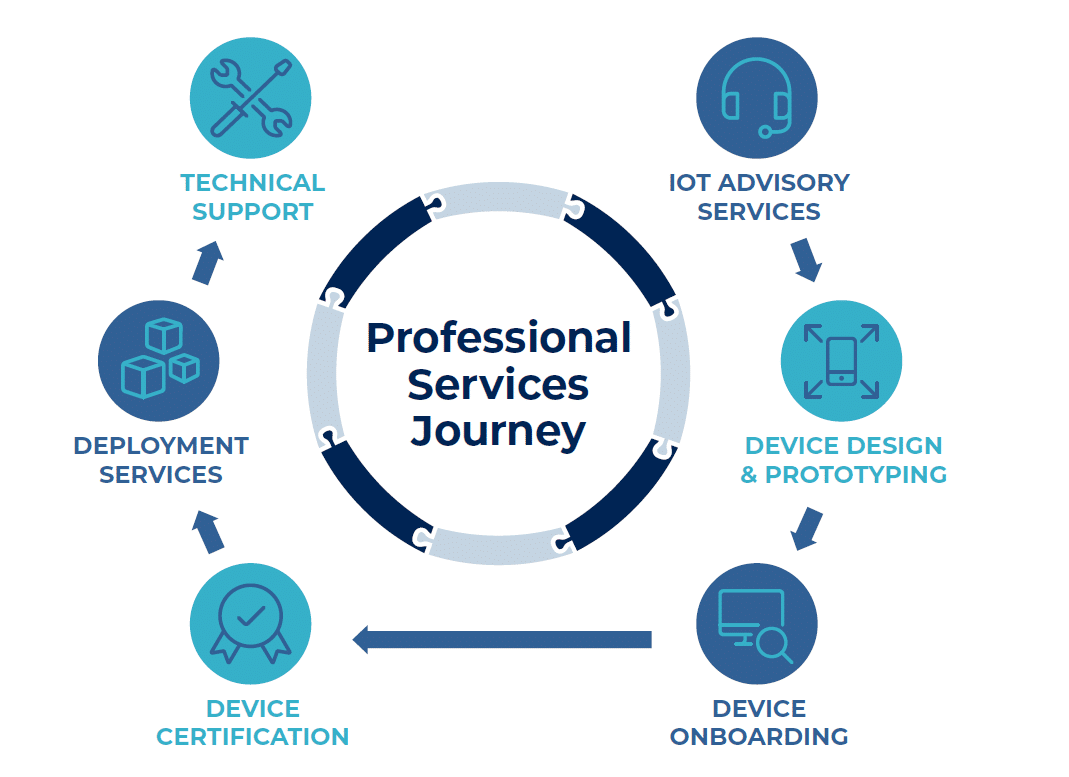 Our Global IoT Services provide your team with experts who have been trained to advise on every stage of product development from its design to deployment. Our IoT advisory services can help with every aspect of your product's life cycle, including:
IoT advisory services: This first stage is all about ideation. Organisations come with their business case idea and our team develop a strategy to help realise your vision.
IoT device design: Leverage the experience of our hardware and software expertise. Our team is on had to consult and design you an optimal IoT device.
IoT device prototyping: Creating rapid IoT hardware prototypes, including selecting the different sensors that should be used in the device to collect the data you require.
Development: After the prototype has been refined, we can move into developing your IoT device. Here we do a significant Proof of Concept (POC) to test the theory, device operations, and data provisioning. Besides testing the technology, we will also test the concept and whether it will serve the business purpose and bring the required return on investment.
Field trials: At this point, we will conduct early SIM trials and constantly evaluate and test to qualify the device. The best practice approach is to deploy at least 50 devices in the field with the selected SIM in place and with the requisite connectivity and support services.
Building: Conducting a POC over several months mitigates financial and reputational risk, so by this stage your device will have been refined and ready for mass production.
IoT device onboarding: Observing and testing connectivity, device operability, and behaviour to ensure the device is resilient and ready for the field.
IoT device certification: Standards and certification provide the necessary framework for all IoT players to operate in harmony together. Our technical experts help you to navigate through the different types of certification your device will need: regulatory, industry, and mobile network operator. In addition, our eUICC specialist support engineers are well versed in the process of achieving eUICC certification and can confidently support you throughout the process.
Deployment: Supporting you throughout key pilot phases and successfully deploying your IoT devices to the field. In the long-term, our deployment managers can help you to scale your estate and ensure you achieve your business objectives.
Unlike other providers, our technical team of IoT experts engage with an IoT project from the earliest stages to ensure that everything is done right from the start. For example, during the ideation stage of your device's life cycle, we help you to establish your business objectives for your target market. Our focus is to help you design an IoT device with a single SKU that will allow you to scale up with ease whenever you need.
Over 80% of IoT projects often fail due to an issue at the device level. With our onboarding service, we conduct rigorous testing to ensure that the device works predictably under different operating conditions and meets key best practices for IoT. After completing the onboarding tests, we produce a detailed report with our conclusions and recommendations. If any connectivity issues are detected during testing, we can advise on remedies to resolve them, and should device modifications be required we can agree on a plan for changes and retesting so that the device is optimised ahead of deployment.
Thereafter, our IoT Deployment Services team is there to assist you with any unforeseen issues that might arise post-deployment. Our global service desk is on hand to help with any troubleshooting. Born problem-solvers, our specialist IoT support team can leverage their expertise to ensure a swift resolution.
The Ideal IoT Deployment with Eseye
To maximise the chances of success for your IoT project, and for total peace of mind, it is important to engage early with our IoT specialists so we can combine your ideas with our expertise to create the perfect IoT device. This way, the product is designed in a way that allows easy scalability, is tested under different conditions to determine the ideal operating range and is resilient to minor fluctuations in the network. At the same time, our range of onboarding tests allows you to observe how your IoT device operates, enabling you to produce the device right the first time before it hits the market.
A dedicated Deployment Manager is assigned to you in the deployment phase to assist you during the key pilot stages and ensure your IoT initiative is successful. They are also on hand to support initial deployments, and subsequent scaling when there is a positive response from the market. Once your devices are deployed into the field, we offer proactive monitoring and reactive support services to ensure that your device estate is always operating at optimal performance.
We are the only IoT guide you need. We can help you with the initial concept and design of the IoT device through to cellular connectivity, IoT edge hardware, consulting, and round-the-clock support, and everything in between.