The global smart vending machine market is growing at pace. MarketWatch valued it at $4.6 million in 2020 and will it's forecast to grow with a CAGR of 10.47% from 2020 to 2027.
The smart vending sector was one of the first to adopt IoT and reap its many business benefits, including cost savings, more sales and greater customer satisfaction. In fact, Coca-Cola was one of the first smart devices on the market in 1982! Since then, smart vending machines have gone from strength to strength, responding to shifting retail behaviours and playing a crucial part during the height of the pandemic when many shops had to close their doors.
Eseye recently published the 2021 State of IoT Adoption Report which assesses the state and scale of IoT adoption across key vertical markets including: Smart Vending, Healthcare and Medical Devices, Manufacturing, Supply Chain and Logistics, and EV Charging and Smart Grid. 500 UK and US senior decision-makers and implementers of IoT were surveyed, 100 of which work in the Smart Vending sector and have worked on at least one IoT project in the last year.
We dug deeper into the research and created a vertical specific report to explore the key findings that emerged from the Smart Vending sector.
Interested in what we found out about the smart vending market? Get a taster in this article – download the State of IoT Adoption: Smart Vending report for the full findings.
How does the size of your smart vending estate measure up?
The vast majority (91%) has deployed less than 10,000 devices. Only 7% had deployed between 10,000 and 100,000 devices in the field and just 2% had deployed more than 100,000 devices.
Major players in the smart vending market include Azkoyen Group, R.S. Hughes Co., Crane Co., Fuji Electric Co., GLORY, Mars, and Ingenico S.A. 
Challenges for the smart vending market
Managing a smart vending estate presents daily challenges such as:
Keeping track of multiple vending machines in a widely distributed fleet.
Understanding if the machine is operating as expected and keeping on top of any technical faults.
Monitoring the replenishment of consumables.
Meeting increasingly sophisticated consumer expectations about reliability and ease-of-use.
Balancing customer demand for straightforward operating elements together with high level multi-functionality and automation.
Maintaining a consistently high-level of service with machines that work first time, every time.
All of these factors are entirely dependent on a reliable IoT connection between the device and the network.
Getting down to the root cause
Nearly half of all respondents (49%) named cellular connectivity as the biggest challenge when implementing their smart vending initiatives. This sector often struggles with connectivity coverage because of the location of machines, for example underground stations and other remote locations. However, lack of, or inconsistent, unreliable connectivity, can ultimately destroy the business case for smart vending.
Other common hurdles and barriers also emerged including COVID-19, device security and managing the estate and all of its devices and contracts.
Despite its challenges, the smart vending market is resilient and has a positive outlook. 91% of the smart vending respondents said that IoT is a priority for the business in the next 12 months and many are planning more initiatives.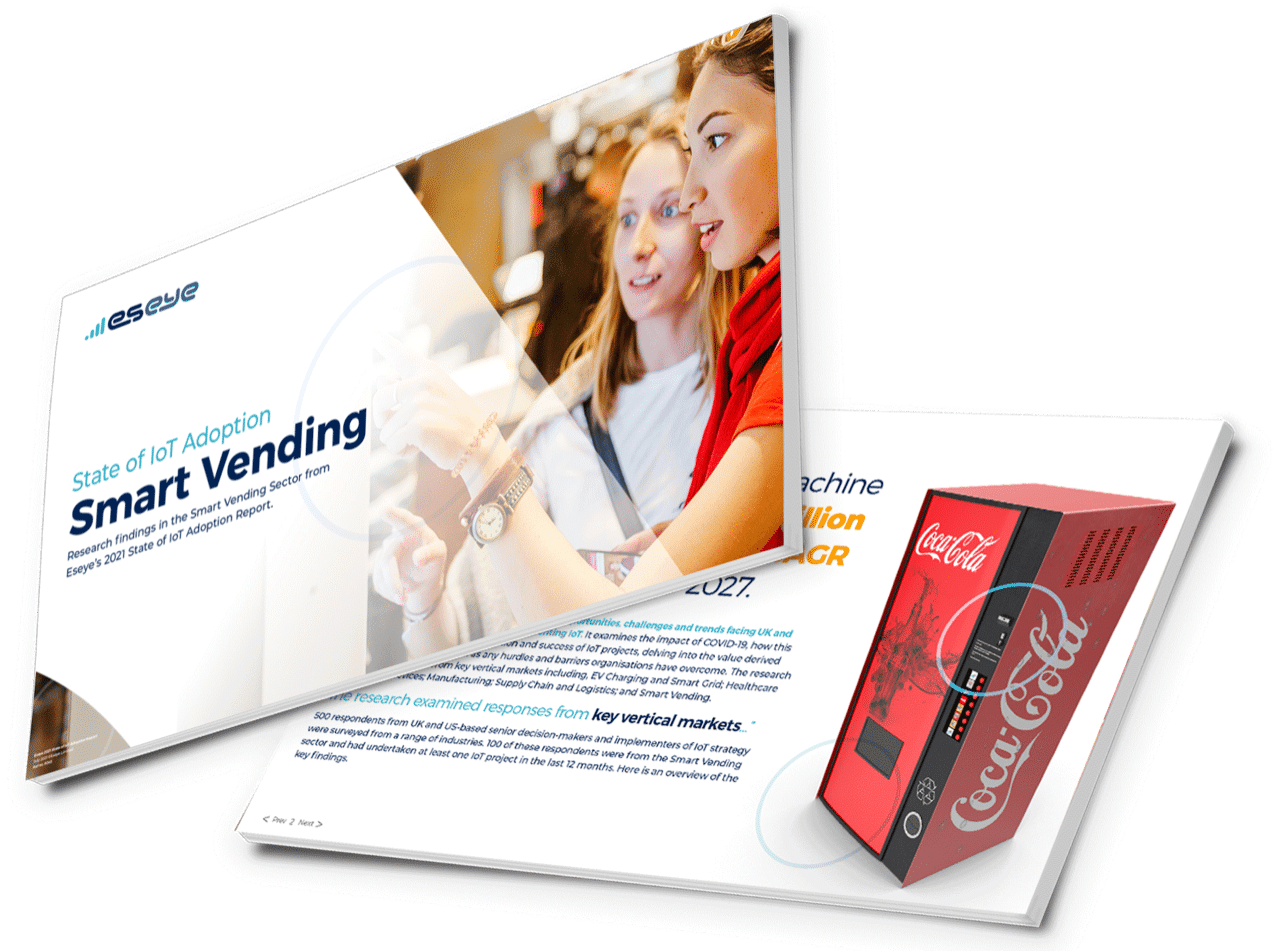 Want to know more? Discover more research findings on the smart vending machine market:
COVID-19's impact on IoT smart vending projects
Key challenges and concerns reported by smart vending respondents
Top benefits delivered by smart vending IoT initiatives
The main technology drivers giving smart vending a commercial advantage
Future plans: budget and investment forecast for the next 2 – 3 years
Recommendations for smart vending project success