IoT-enabled smart vending machines offer innovative retailers a real opportunity to gain a competitive advantage.
But companies often underestimate the complexities of deploying IoT solutions. There are many more failed IoT projects than there are success stories.
In this three-part blog series, we'll be exploring three key elements that you need for a successful IoT vending deployment: connectivity, data management and IoT security. 
The time is right
IoT has fallen far short of its growth predictions – the number of connected devices to date is 41 billion fewer than predicted.
Now, however, innovation and technology advances are providing the ideal conditions for retail companies to reap the rewards of deploying IoT solutions.
With an IoT-enabled smart vending solution you can reduce costs, increase revenue and improve customer service – all from a single centralised point of control. You can:
Ensure machines are kept stocked
Optimise logistics and maintenance schedules
Identify and remedy issues quickly
Run creative marketing and promotion campaigns on the machines
Understand your customers better through data analytics
But to achieve ROI you must understand what you need for a successful IoT deployment.
The first of these is getting connected.
Continuous connection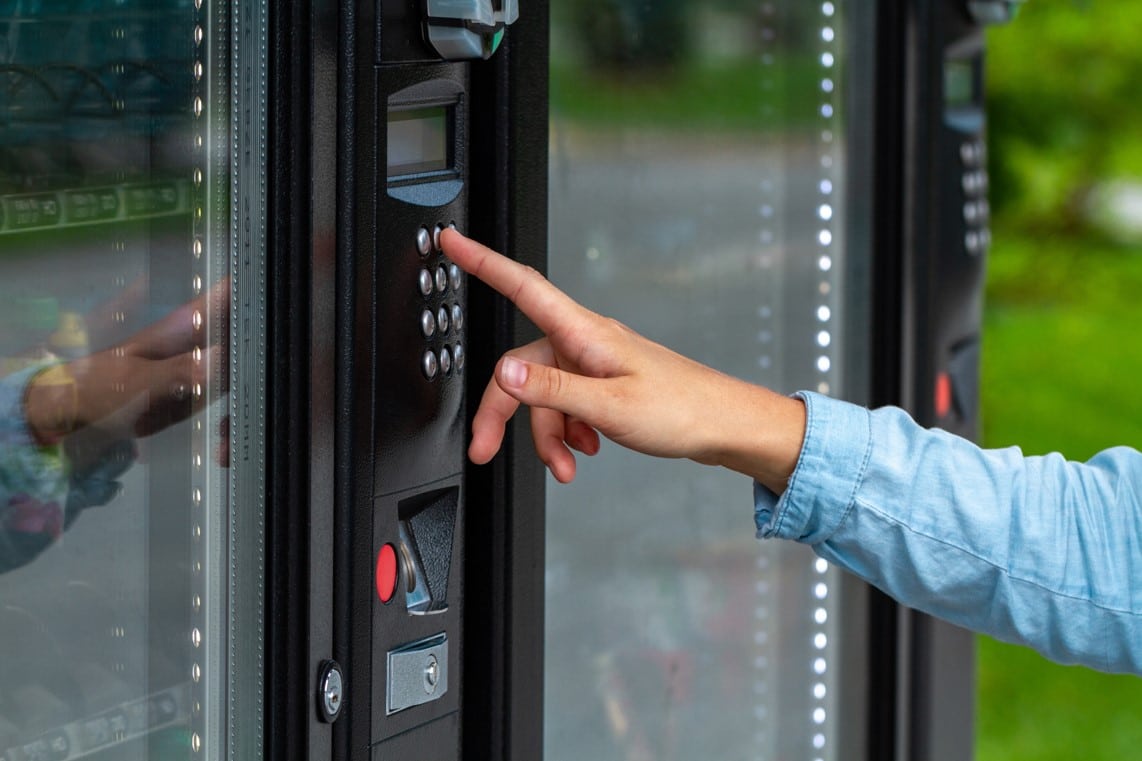 When we're talking about IoT, it seems obvious that all the 'things' should be connected all the time.
After all, the whole point of deploying an IoT solution is to enable you to monitor and manage your devices over-the-air in real-time.
You need reliable, continuous, out-of-the-box connectivity to reduce costs, delight your customers and enhance your brand.
And as your vending machines will be in the field for more than five years, it's important that your decision will stand the test of time.
So what are the options and how do you make the right choice?
Find out how high-quality connectivity can reduce smart vending costs and increase profits – view whitepaper.
What's the Wi-Fi password, please?
We're used to our phones being constantly connected to the internet (usually through Wi-Fi), so you might expect your vending machines to do the same.
Unfortunately, it's not that simple.
The machines might be in areas where they can't connect to the internet. Perhaps there's no Wi-Fi or they can't join a local network because they're considered 'foreign'.
Even if they can connect, the line might drop or the router might develop a fault. Network security keys and passwords might change with no way for the devices to re-connect.
You could be unable to process business-critical payments, upload pricing updates or detect faults, leading to lost revenue and damage to your brand.
Can you afford to have so little control over your machines' connectivity?
Cellular solution
Another option is to use cellular connectivity from a mobile network operator (MNO).
While this solves some issues, it raises others.
For example, choosing an MNO means locking into their rates, service availability, management platform and technology. Your commercial performance and operational agility could be impacted by theirs.
And a single MNO can't provide 100% global connectivity. Even if the MNO has roaming agreements in place, you may be unable to connect to 10-30% of your devices at any time, depending on their location.
That's unacceptable if you want the highest possible uptime, and to know that devices will connect out-of-the-box no matter where they are deployed.
If you select multiple operators, you'll have increased costs and operational challenges managing all the supplier relationships.
Plus you'll have to consider multiple technologies in your design process.
Any time, any place, any 'thing'
Fortunately, there is an answer.
Eseye provides an intelligent connectivity solution that supports seamless switching between mobile networks to ensure that each device is connected to the network with the strongest coverage.
If a network is lagging or has no signal, an intelligent SIM in the device dynamically switches to another network. It doesn't rely on individual MNOs to switch devices to other networks depending on their roaming agreements.
You are firmly in control and your machines stay connected wherever they are in the world – you don't even need to know which network your machines are on at any time.
Intelligent, agnostic connectivity is key to achieving near 100% uptime for your IoT-enabled smart vending machines – the first element in your successful IoT deployment.