Blogs
08 January 2021
Reading Time: 2 mins
What is a Cold Chain?
A cold chain is an uninterrupted supply system which maintains the quality of products from production through to transportation, distribution, storage, and retail by using temperature-controlled environments.
What does a cold chain do?
An unbroken cold chain provides a safe, temperature-controlled environment for sensitive items such as fresh and frozen food products, pharmaceutical products, biologics, chemicals, and vaccines.
The cold chain is essential for maintaining the quality of these high and low-risk perishable products and ensuring they arrive in optimal condition, fit for use or consumption.
How does a cold chain use IoT?
A smart cold chain system uses IoT to enhance monitoring by enabling real-time logistic management of every link in the chain.
It does this by using sensor-based technology which allows sophisticated real-time data tracking. Instead of manually collecting data by examining data gauges, connected sensors continuously monitor the environmental conditions of every part of the system.
Sensors connect with a smart IoT ecosystem and are powered by secure global connectivity, allowing products to be tracked wherever they are in the cold chain at any given moment.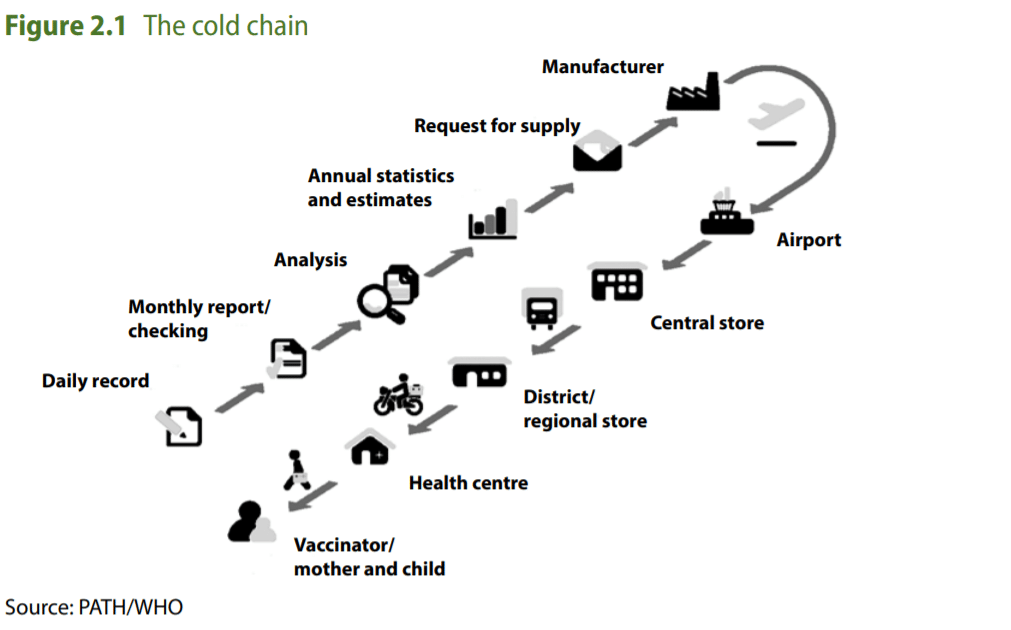 What are the business benefits of a smart cold chain?
Intelligent monitoring: IoT sensors collect real-time data on areas such as location, temperature and humidity which optimises both reactive and proactive monitoring
Constant connectivity: Smart IoT ecosystems identify incidents immediately and help to mitigate any damages or delays with reactive responses
IoT data analytics: Performance data collected from sensors provides businesses with analytics. Further insights can be drawn by performing an audit on each part of the chain and optimising for efficiency
Improves predictive maintenance and cost-effectiveness: fixing problems before they happen and scheduling maintenance to reduce downtime
Reduces wastage: a high-quality cold chain will guarantee the safety and quality of the product by maintaining optimum environmental conditions. Learn how IoT could halve food wastage before the end of the decade.

Learn why connectivity is crucial to a smart cold chain
Read blog
Nobody does IoT better
Let's achieve your goals
Build the IoT estate that meets your needs now – and ten years from now. It's why global leaders trust Eseye.