Infinity: Your Mission Control for IoT Connectivity
Why spend time logging in to each mobile network provider's platform?
Simplify connectivity management with the Infinity IoT Platform™; a single screen showing all your IoT devices, putting you and your team in complete control.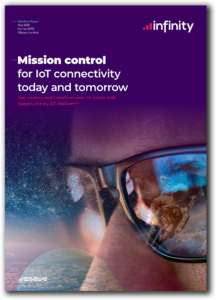 Manage all your existing legacy SIMs, Eseye AnyNet SIMs, and emerging iSIM solutions in one platform.
Bring your existing preferential MNO contracts and billing, then supplement them with Eseye's AnyNet infill.
Protect your IoT investments by adding private 5G/LTE networks and other wireless technologies as the market evolves.