Not all SIM cards are built the same.
The new eUICC SIM card standard released by the GSMA has been designed with consumers in mind. Although it works well when adding a SIM card into a mobile phone or existing consumer plan, the risks associated with transferring the service in a commercial IoT device should not be underestimated. For example, if after a network switch (usually one-way), the new network is unavailable, there is a risk that a device will not work, and concerningly it may not be possible to 'fallback' to the original bootstrap.
For consumer devices with an irregular network switching requirement, which is usually based on a contracted term (such as 12 or 24 months), being able to switch once per device may be acceptable. But from experience we know that this approach doesn't meet the needs of large-scale commercial IoT deployments.
Eseye's unique multi-IMSI SIM technology was developed in close collaboration with two of the three major SIM card manufacturers. It allows for dynamic and seamless switching between network providers, and now with our new AnyNet+ SIM it's fully eUICC compliant.

Eseye's AnyNet+ SIM contains multiple Tier 1 MNO bootstraps (multi-IMSI) and profiles. Customised algorithms within the SIM card dynamically select the right profile to deliver the best service. This allows Eseye to deliver ubiquitous connectivity anywhere in the world with complete assurance and reliability.
Coupled with our proprietary Connectivity Management Platform, this means we can automatically switch between different service providers over the air (OTA) to ensure the highest levels of availability to our customers, higher than any single MNO proprietary solution or standard eUICC solution from other IoT solution providers.
The diagram below shows Eseye's proprietary and advanced approach to eUICC, which is referred to as the AnyNet+ SIM. Eseye has designed the bootstrap to include multiple profiles. For resiliency and peace of mind, the AnyNet+ SIM card can confidently rotate to find optimum coverage on another network, should an individual profile fail to deliver service connectivity. This is important as a single global bootstrap will be unable to provide global coverage across all networks and thereby increases the risk that some devices will be unable to connect on deployment.
The diagram also shows how a local profile can be loaded OTA (to the Step 2 profile) using the standard GSMA Specifications. Eseye calls this process localisation.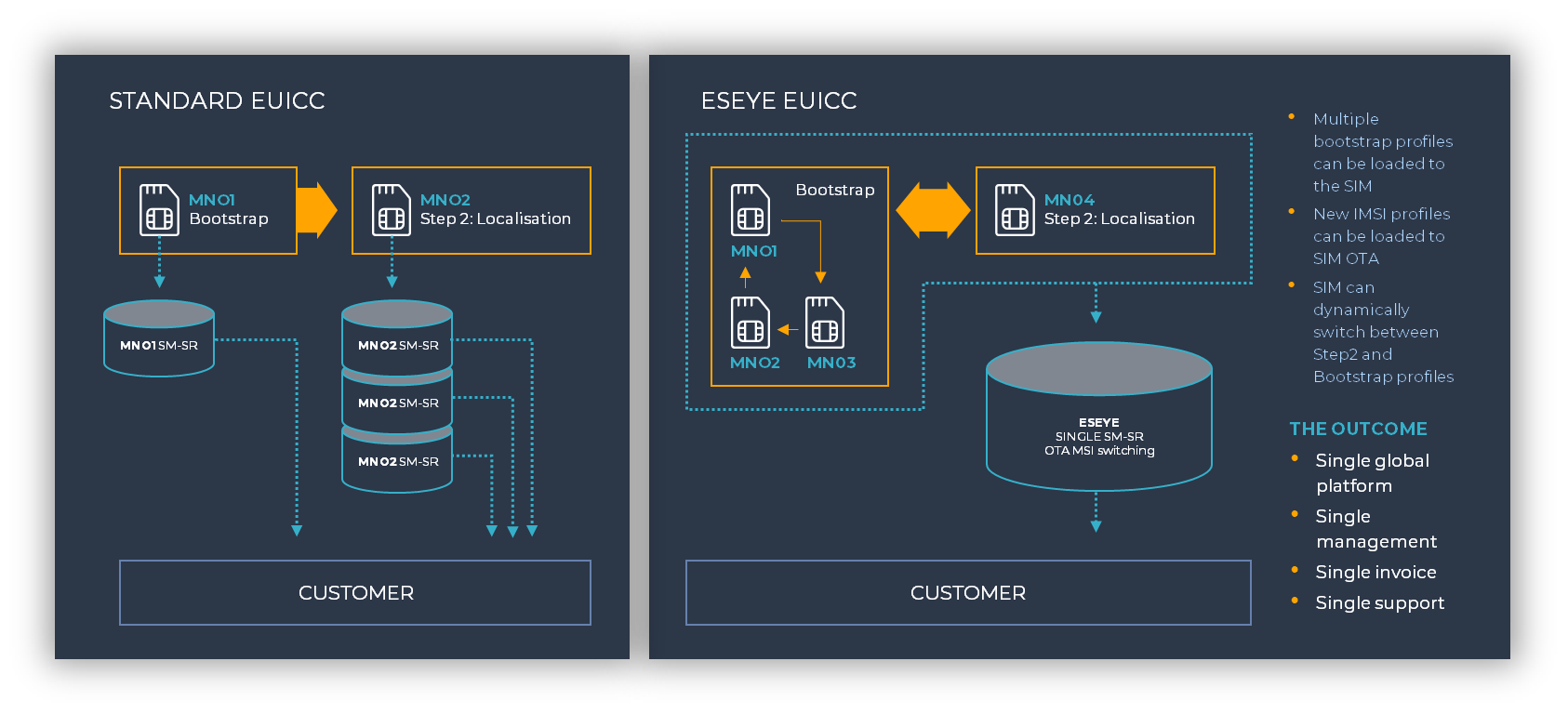 To allow our customers the benefit of localisation without requiring the migration of the SIM management to a local MNO, Eseye has invested heavily in the infrastructure needed to fully manage an eUICC-compliant SIM through the entire lifecycle. AnyNet Federation operator partners provide the localisation profiles needed around the world, supported by Eseye's Connectivity Management Platform (CMP).
In the case of Eseye's approach to eUICC, not only is there a fully flexible provision for network fallback (multiple Tier 1 bootstraps) and two-way interchange between the bootstrap and the Step 2 profile (which localises the network) to enable full fallback capability, critically Eseye also offers a single Subscription Manager Secure Routing (SM-SR) capability which is the key to global IoT success.
The SM-SR securely delivers the encrypted operator credentials to the SIM and then, once the credentials are installed, remotely manages the SIM thereafter (i.e. enable, disable and delete the credentials as necessary during the product's lifetime).
Reducing the administrative overhead associated with SM-SR management and changes between MNOs (as per the standard model) enables Eseye to switch networks quickly and effectively with greater uptime, device performance and value for customers.
The Eseye AnyNet+ SIM is unique in the market meeting eUICC standards, whilst incorporating an advanced multi-IMSI profile management solution to provide effective, flexible and scalable connectivity to support commercial IoT deployments.