What's on the horizon for IoT? Here are three IoT predictions which, if they come true, are set to shake up the IoT industry for 2022 and beyond.  
1. The astronomical rise of the eSIM
This year will see eSIM being used as the default connectivity technology for all IoT devices. It's now standardized in the market and starting to make a phenomenal difference in IoT applications.  
This move breaks the 40-year proprietary lock between mobile network operators (MNOs) and SIMs in devices – where MNOs traditionally managed the choice of roaming partners and the switching process too. 
Francis D'Souza, VP Strategy and Products – IoT at Thales says, "your SIM now becomes your way of acquiring and managing extremely resilient connectivity and your way of acquiring and managing extremely resilient IoT device security." Here are four benefits of eSIM technology for IoT practitioners:  
i. The ability to use standardised hardware and offer a subscription package, of which the features may change at any time, through the eSIM. 
ii. Devices in fixed locations can access networks through eSIMs. There's no limitation to network access based on MNO signal strength at the precise location where the device needs to be installed. 
iii. Should an MNO base station lose power, an eSIM won't lose network coverage. Uptime for the device is protected, your offering remains resilient, and your customers don't suffer from data gaps. 
iv. eSIMs enable contractual alignment between network access and device subscription or longevity. Devices with lifespans of 10+ years are no longer vulnerable to obsolescence due to a network contract which may end six years in. 
2. Enterprises take control
Enterprise interest is growing, across all vertical sectors. In a report published in 2020, Transforma Insights estimated that enterprises would invest USD62 billion in IoT in that year, rising to USD481 billion in 2030. 
IoT adoption is moving into increasingly mission-critical areas – for instance in streamlining supply chains and in asset tracking. Enterprises are increasingly embracing IoT in their businesses and want enterprise-grade IoT solutions. Not consumer solutions with IoT wrappers on.  
They want what's known as an extensible policy to the edge – solutions that can extend policies including those for security, governance, and compliance to the network edge. Going forwards this will become a mainstay requirement in requests for proposals.  
After 40 years of being embedded with MNOs, the mobile network switching technology – known as the Subscription Manager Secure Routing (SM-SR) – will also move within the Enterprise's control.  
This fundamental move will enable Enterprises to assume control of their IoT deployment and achieve greater visibility of their entire network. 
7 recommendations to help you find an enterprise-grade solution that works – download our new report with Transforma Insights. 
3. Industries adapt business models
Remote working is here to stay. Throughout the coming year, business across all industries will need to adapt their operating models to meet new and changing needs of both customers and their own staff. COVID-19 has forced businesses to practice agility in response to a rapidly changing landscape.  
Healthcare typifies this trend. Remote patient monitoring (RPM) has accelerated tremendously. In 2020, 23.4 million US patients used RPM services and tools in 2020, and this is expected to rise to 30 million by 2024 according to research conducted by Insider Intelligence. 
Jeff Bartzen at Telli Health comments, "Telehealth and remote patient monitoring is the new delivery model to help reduce hospitalizations and overall healthcare spend. We expect demand for our services to exponentially grow over the next 5 years as RPM is adopted in other countries".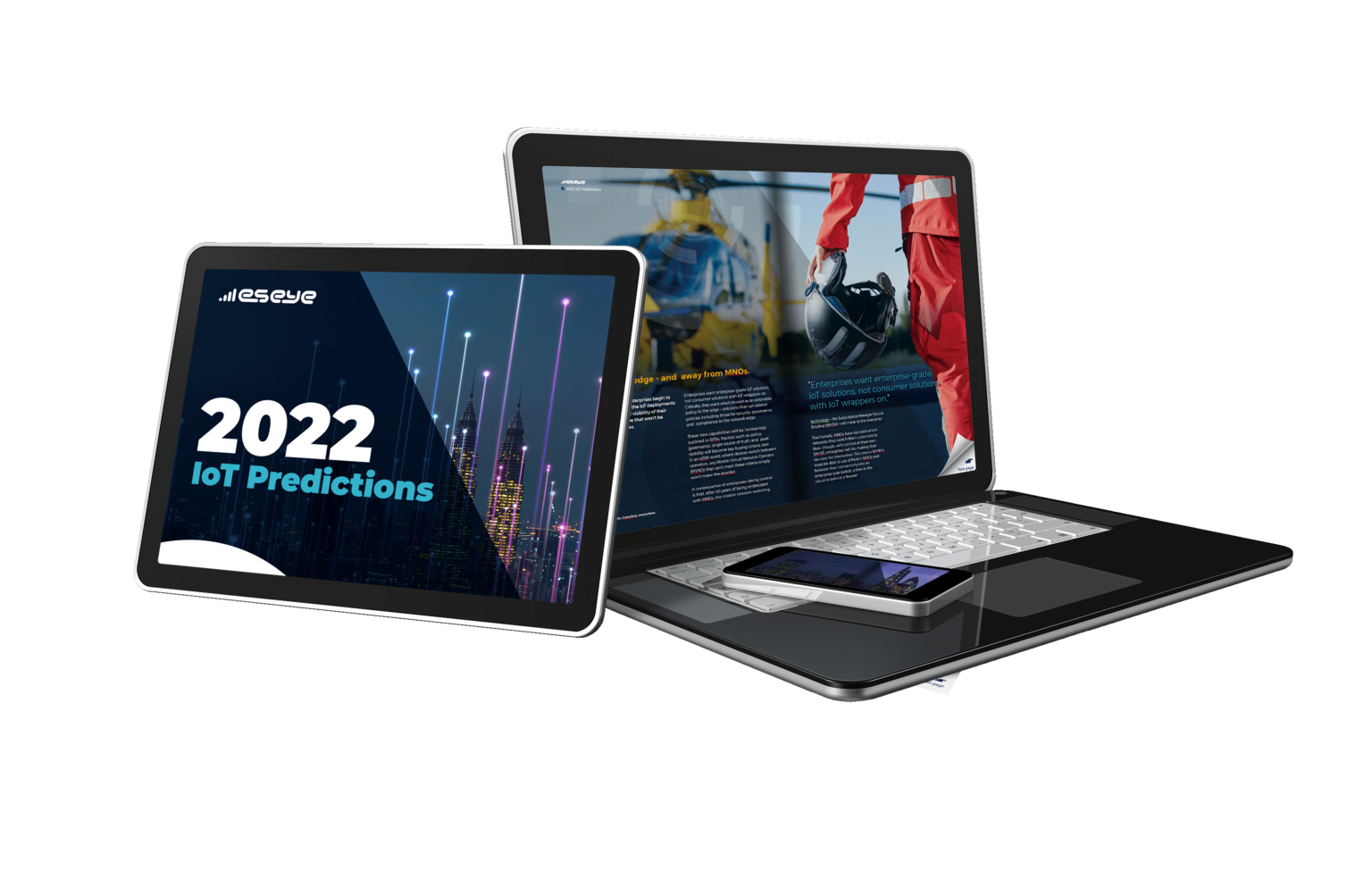 5 IoT predictions to watch in 2022
Beyond the three exciting IoT themes mentioned above, the 2022 IoT Predictions report highlights two more trends you should prepare for. Check out our forecast in more detail – get your free copy of the report.
Download now