IoT security is often the main concern for organisations planning an IoT deployment. Security incidents can damage your brand and reputation, and cause significant financial loss.
But security for IoT deployments is particularly challenging. To succeed, you need to design security into your devices and systems from the start.
Part 1 of this series on IoT-enabled smart vending machines discussed the challenge of securing great connectivity for your deployment. Part 2 was about achieving business value from the data you collect.
And last – but certainly not least – we discuss how to address the challenge of IoT security.
IoT security challenges and risks
The characteristics of an IoT deployment make security particularly challenging:
Hundreds or thousands of devices must be secured; one compromised device can infect the whole network
Devices may be located in hard to reach locations, increasing the possibility of security gaps in the network
Devices usually have minimal computing resources, making it harder to implement the usual security protections
Security breaches can lead to Denial of Service (DoS) attacks, unauthorised access to devices, data breaches, and malware or ransomware attacks.
Vending machines with Point of Sale (PoS) terminals have particular vulnerabilities. Hackers can steal credit card details to sell on the black market, or send malicious code to take control of the digital display. 
IoT security issues
Common IoT security issues include:
Software on the devices that is out-of-date or has known vulnerabilities
Weak or default credentials on devices
Credentials that need to be input manually
Configuration settings, such as authentication and authorisation, that don't follow best practice
Lack of device monitoring and behaviour analysis
IoT security solutions
A best practice IoT security solution includes features such as:
A unique authentication certificate for each device
A zero-touch approach – no manual assignment of certificates or input of passwords or codes
Automatic over-the-air (OTA) delivery of a certificate and security policy when a device is first deployed and when required to maintain security
End-to-end encryption for data transfers
Software updates pushed OTA to devices when required
Centralised device monitoring and management, including:

Prompt notification of potential security issues
The ability to take action quickly and easily, such as isolating a compromised device
Your solution needs a scalable framework and architecture so that it keeps pace with the growth in your deployment.
If you're using third parties for data storage and device management, you need to make sure they offer the security provision you require.
Partner with experts
You can't afford to get IoT security wrong. Partnering with experts can identify and mitigate security risks, speed up deployment and reduce costs.
Eseye has extensive experience in designing IoT devices and offers automated, zero-touch connectivity solutions. Device provisioning is remote, fast and secure. Data transfer to your chosen platform is secure.
Hyperscale cloud providers like Amazon Web Services (AWS) can provide scalability and best practice off-the-shelf tools to monitor and manage your devices.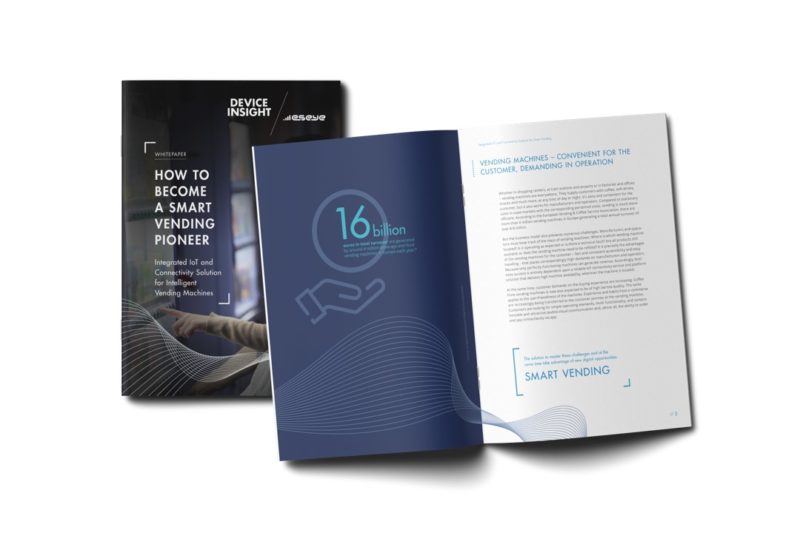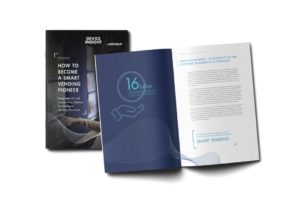 Eseye has extensive experience in designing IoT devices and connectivity solutions. We have partnered with Device Insight to help guide companies in the smart vending sector through the complexity and deliver IoT successfully. Together, we combine our many years of IoT expertise and innovative and reliable connectivity solutions to create a joint smart vending approach that guides companies from the planning and development of the solution architecture to the actual deployment, roll-out and operation of the solution.
We can work with you to identify the best solution for your IoT-enabled smart vending deployment. You can focus on your business performance and growth while we manage the rest.