Roaming and IOT devices
Roaming is a risky business for IoT devices. Are you aware of the challenges it poses to your IoT project?
"Negative rules and attitudes to permanent roaming are present, and growing, across a significant number of countries. The risk of potential loss of connectivity across device fleets due to permanent roaming issues may result in significant unforeseen costs" reports Steffen Sorrell, Chief of Research at Kaleido Intelligence in a new report.
Localisation combined with advanced eSIM network switching is the way past permanent roaming issues. And the way forward for global IoT enterprise projects.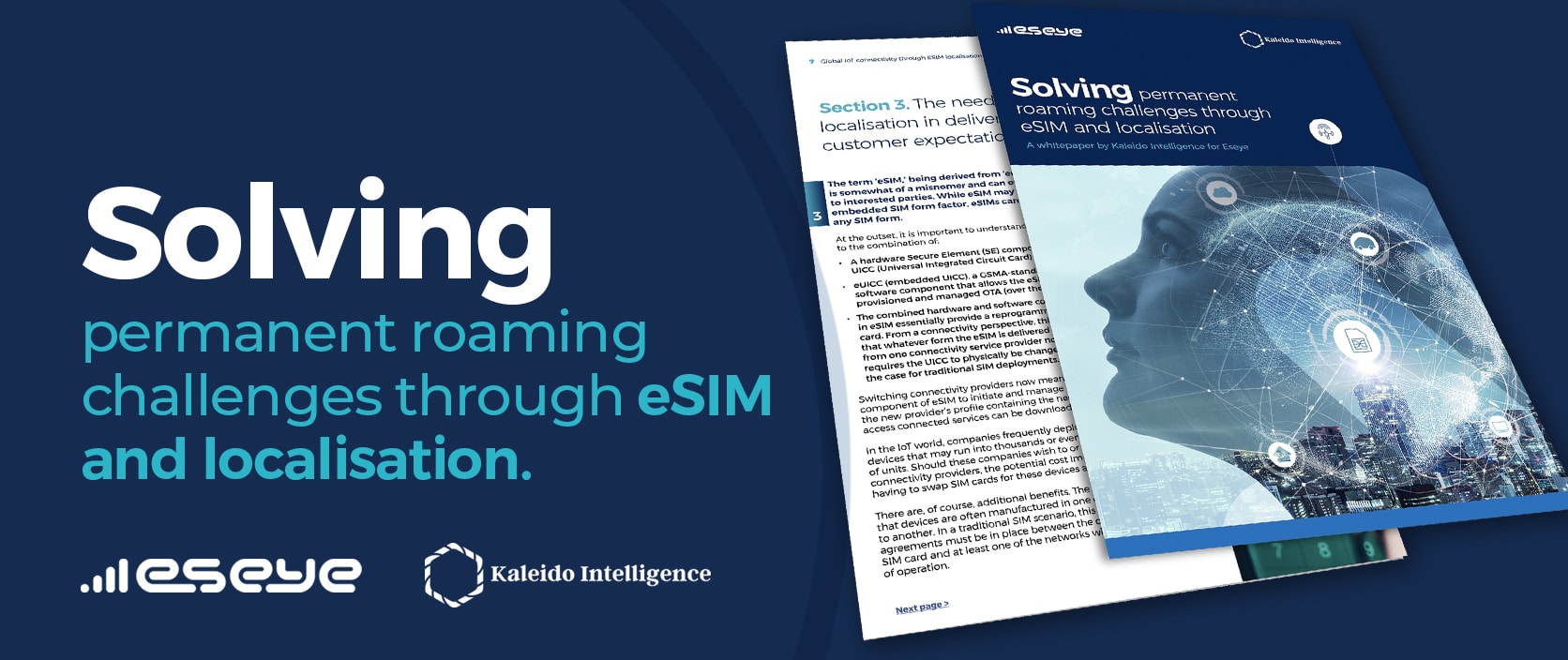 Download the Whitepaper Read the 1 minute summary
What is roaming?
Roaming enables connectivity in many countries around the world. Most roaming agreements are short-term compared to the lifecycle of an IoT device, which could be well over a decade.
Did you know that devices can only roam temporarily for free for a maximum of 90 days? Stay any longer and you risk permanent roaming charges and the operator blocking your devices from its network. Can you afford a connectivity loss?
If connectivity cannot be assured in the country the device will operate in, then the project is in trouble, and will struggle to scale.
It's also more expensive for the end-customer in the long-term due to expensive data rates, MNO disputes around permanent roaming, poor application performance, and increasing regulatory requirements.
Why permanent roaming is a growing global issue for IoT.
In recent years, operators, and regulators in many countries around the world have become increasingly concerned with permanent roaming by IoT devices.
Negative rules and attitudes to permanent roaming are rising.
Permanent roaming is effectively prohibited in China, Egypt, India, Saudi Arabia, Singapore, and the UAE. Any deployments at scale will be prevented through regulatory and/or operator action according to Kaleido Intelligence.
Did you know that Brazil, Turkey, and Nigeria have banned permanent roaming altogether?
The trend suggests more countries will follow in this path…
A strong reason why you should not depend on roaming as a long-term connectivity solution for your IoT devices.
eSIM localisation – IoT roaming solution
The vision for eSIM allows the user to use any operator's credentials to access their data services. Projects can thus be launched using a plug-and-play approach where the SIM card is concerned.
Kaleido Intelligence research found that eSIM provides a solution that eliminates the future risk associated with roaming.
The research house also reports that eSIM can lower the total cost of ownership for projects compared to risks associated with connectivity loss or requirements to undergo physical SIM-swaps.
What's more, eSIM can deliver a highly secure solution, enabling data communications and storage security and solving challenges related to IoT device on-boarding with cloud backend systems.
What is an eSIM?
An eSIM is a reprogrammable SIM card.
It can be delivered in any SIM form and is made up of a combination of hardware and software components:
A hardware Secure Element (SE) component, the UICC (Universal Integrated Circuit Card) chip itself
eUICC (embedded UICC), a GSMA-standardised software component that allows the eSIM to be provisioned and managed OTA (over-the-air)
What sets the eSIM apart from other SIMs is that the process of switching from one connectivity service provider no longer requires the UICC to physically be changed, as is the case for traditional SIM deployments.
In the IoT world, companies frequently deploy fleets of SIM-enabled devices that may run into hundreds of thousands of units. Should these companies wish to or be forced to change connectivity providers, the potential cost implications of physically having to swap SIM cards for these devices are significant.
eSIM presents a simple, flexible, over-the-air solution. Kaleido Intelligence predict by 2025, over 65% of all eSIM compatible IoT device are expected to use the eSIM connection throughout the year.
5 ways eSIM localisation can solve permanent roaming challenges
Permanent roaming has emerged as the biggest barrier to global IoT success, presenting long-term risk to an IoT project that can jeopardise success.
Kaleido Intelligence and Eseye examined the common pain points surrounding roaming and regulations; the 1-minute whitepaper below explores the 5 ways eSIM and localisation can overcome them:
Want to know more?
Time to deep dive
Get the full Kaleido Intelligence Whitepaper
Discover more about why eSIM localisation is becoming a crucial requirement for global IoT projects because of its ability to solve challenges around permanent roaming.
Download the full whitepaper to read critical findings from Kaleido Intelligence's new study into eSIM localisation.
Download Full Whitepaper